Footpaths4Feet has come together to support members of the community who use footpaths to get around.

The Government is bringing in a regulatory package called the Accessible Streets Package. Although there are some good things in it, this package also seems to permanently allow personal transport devices such as e-scooters to be used on our footpaths. This will make footpaths less safe, and feel less safe, for pedestrians.

For many people on foot (including those in pushchairs and wheelchairs), and especially for those people who have difficulty walking, hearing, seeing or mental processing using the footpath is a necessity, and the main connection to their community. If e-scooters and other personal transport devices are allowed on footpaths, these people, as well as able-bodied pedestrians, will be put at higher risk of injury and feel less safe.

If these regulations are adopted, local councils may feel they no longer have to invest in making spaces safe by, for example, installing bike paths and bike lanes or lowering speed limits.

We need to create safer streets for our community  - for people on foot and for people on wheels. Help us keep footpaths for feet and mobility device users by getting a ban on e-scooters, bikes, and other personal transport devices being used on footpaths.

The petition has closed and can be seen here.     Donate to the campaign here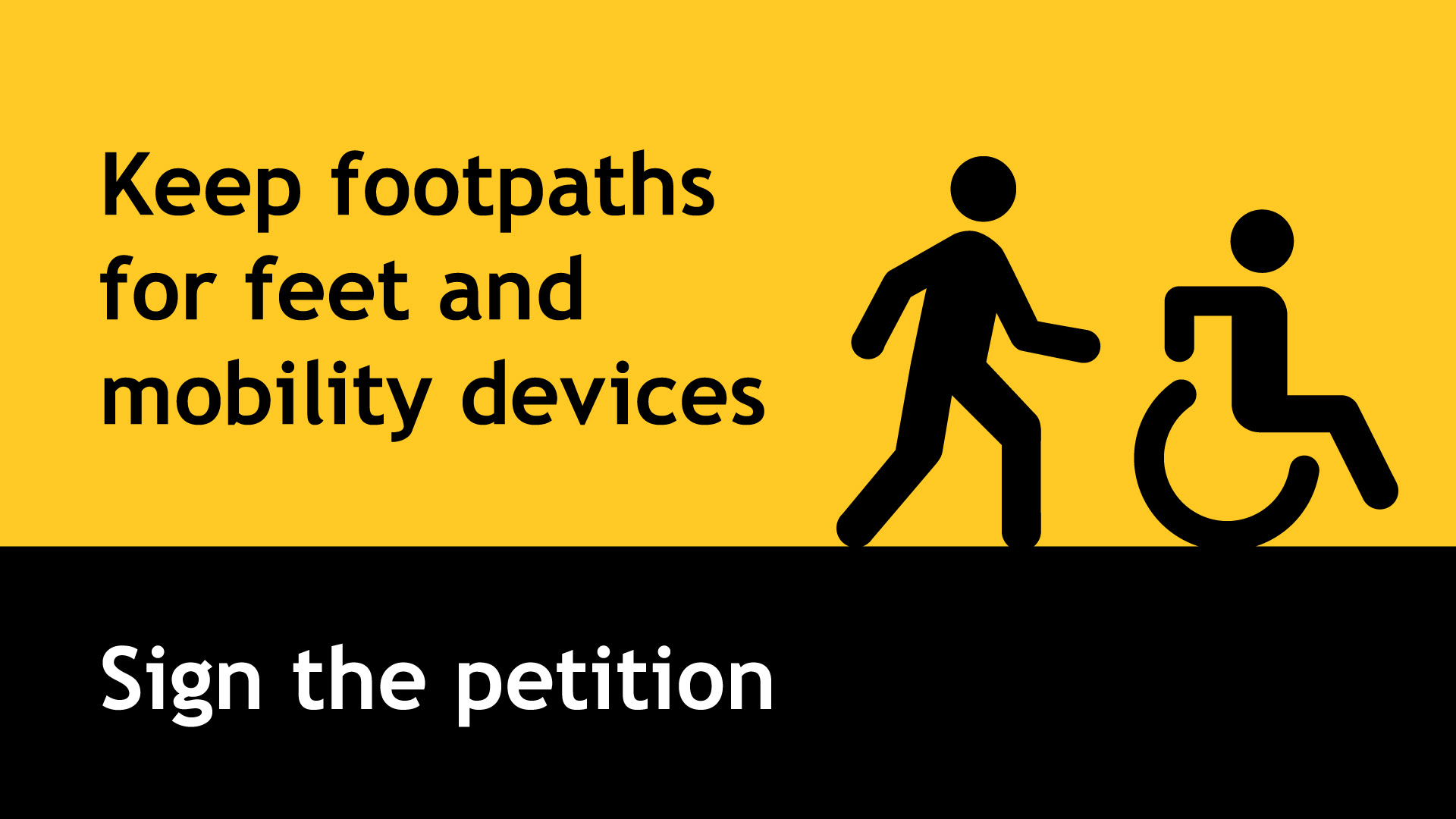 For some time, Living Streets Aotearoa has been attempting to improve provision for walkers and disabled people using mobility devices. However, recently our efforts have had to be directed at protecting pedestrians from threats posed by new forms of 'micromobility' (e.g. e-scooters) which central and local government has allowed onto footpaths.

We have formed a coalition of interested organisations and have been meeting with various agencies to discuss our concerns and to highlight the need for walking to be put on an equal footing with other modes of transport as part of a truly integrated, equitable transport system. We have been receiving positive responses. 

Unfortunately, to date, we have not been able to meet with any Ministers which is highly disappointing given the urgency of the matter and the fact that Cabinet is due to consider an 'Accessible Streets' package in early April.

The coalition brings together Living Streets Aotearoa with Grey Power, CCS-Disability Action, the Blind Foundation, DeafNZ, AlzheimersNZ, Visual Impairment Charitable Trust Aotearoa, Disabled Persons Assembly, Nelson-Tasman Accessibilty for All Forum, Movement and Blind Citizens NZ. Other organisations (Age Concern, SASTA, TRAFINZ) are either being kept in the loop over developments or are still actively considering joining the coalition.

What can you do?
Communicate with your local MP and with the Ministers of Transport (p.twyford@ministers.govt.nz, and j.genter@ministers.govt.nz), Health (d.clark@ministers.govt.nz), Local Government (n.mahuta@ministers.govt.nz), Seniors (t.martin@ministers.govt.nz), Disability Issues (c.sepuloni@ministers.govt.nz) and the Prime Minister (j.ardern@ministers.govt.nz) calling for comprehensive consideration to be given to the role of walking in our transport system and the need to ensure dedicated space to walkers and people reliant on mobility devices.
We are joined by a number of other organisations who have an active interest in ensuring that all New Zealanders can safely access the physical services they need for everyday life.
We want to see walking actively promoted. We want to see a balanced approach to develop integrated transport systems that support healthy activity and work for all road users.
Walking benefits people in very many ways, that include better physical and mental health, better community connectedness, greater productivity, lowest carbon emissions for travel, support for local business, safer travel with eyes on the streets, and adds to the vibrancy of liveable streets.
We need a better understanding of walking and pedestrians so there is evidence available to assess appropriate interventions to achieve these goals. Data on pedestrians is sparse and not well-integrated with other transport, health, economic or environmental information e.g. Crash Analysis database (CAS), ACC and Hospital data. Data on particular groups of pedestrians is even less available, such as those that use walking aids. Evidence based decision making is not occurring due to this poor information base. There is an International Walk Data Standard that is a good start on appropriate data to collect.
We support many of the Government's emphasis on safety in the transport system and on treating the system as an integrated whole that affects not only accessibility but also physical and mental health, the quality of life in neighbourhoods and the economic viability of our cities as well as having huge potential for reduction in carbon emissions.
However, we are concerned with some of the Government's apparent intentions regarding allocation of space in the roading corridor to different types of users because they have potential for strong disbenefits. In particular, we are concerned with the apparent intention to allow a variety of additional user types to use the footpaths, compromises the safety and pleasure of so many of our members.
Micro-mobility innovations on our footpaths
E-scooters, bikes, e-skateboards and other micro-mobility powered vehicles (rental or personal, docked or dockless) can have a place in a modern low-carbon transport system. However, in New Zealand they have been allowed onto our busy and often narrow footpaths. Elderly, young, frail, blind or low vision, deaf and other people often have no independent alternative but walking. Walkers like to window-shop, linger to gaze at the beautiful views, chat with fellow walkers or walk to the bus without having to be on constant high alert for e-scooters and other vehicles. Safe and comfortable footpaths are essential to all pedestrians being able to fully participate in the life of the city.
Issues with new micro-mobility vehicles
A significant increase in the number of motorised vehicles allowed on footpaths means that pedestrians are often startled by their appearance, and feel less safe to walk, or have actually been involved in a crash

Users are not necessarily familiar with the Road Rules or have the necessary skills to be safe and keep others safe

Parking of the vehicles is haphazard and often unsafe

They are not active travel as they are motorized and require no effort yet they will replace active walking trips. Not everyone can use them

They require daily servicing by motor-vehicle using Juicers thus creating more traffic and emissions

They may be replacing some car journeys (22% reported in Auckland) but are also replacing walking and public transport trips or are just for fun (78% self-reported in Auckland by Lime)

We don't know enough about the trips these vehicles are replacing
NZ law and enforcement
New Zealand has always regulated footpaths to be 'primarily for pedestrians' (and all manner of services like power poles and telecom units). Historically this came from the UK approach and has meant that pedestrians have a dedicated space to walk and be safe. Pedestrians include wheelchair users.
In NZ e-scooters were declared not to be motor-vehicles (2018) so can be treated as recreational devices allowed on the footpath. This was done without consultation. There is no speed limit for these vehicles, and e-scooters can travel at 27km hour. There is no enforcement of moving vehicles on footpaths.
Solutions
A comprehensive national transport plan is needed that covers all types of transport user including pedestrians, that takes account of Accessibility for All principles, and is future proofed to provide sufficient capacity on the road for all vehicles to share.
Promote health based programmes
Age friendly cities – dedicated footpaths and design

Accessible cities – meeting good standards

8-80 cities and green spaces – cities for all people from young to old
Suggested law changes
The government reviews its decision to declare e-scooters are not motor-vehicles which allows them onto footpaths

NZTA consults on a 'Accessible Streets' traffic rules package in 2019, which should include allowing e-scooters to use cycleways. It may however make it easier for these vehicles to use the footpath and introduce for the first time a speed limit on footpaths, thus encouraging vehicle use.

We support docked vehicles – i.e. there is a specified, marked area to park these vehicles

Turning vehicles give way to all road users, including pedestrians like in other countries

Review exemption for mail motor-vehicles on footpaths which cause barriers to people walking

Increase fee for vehicles parked on footpaths so that it is the same as or higher than other parking penalties to get the incentives right

Reduce speed limits and improve ability of local government to use appropriate measures or innovate at different places to make roads safer for all
Public consultation is undertaken if there is any change to the status of footpaths for pedestrians. Many are too narrow to be shared. Sharing the footpath with e-scooters is effectively creating 'shared paths' and should go through a proper legal process to permit this.  

Enforcement – red lights, vehicles on footpaths, and urban speeding are key issues for pedestrians and require Police enforcement

Footpaths should meet an adequate standard in NZ now (NZPPDG, RTS 14)
3 Undertake new projects
Review the needs of mobility vehicle users so that they are appropriately provided for while protecting pedestrians, and what adequate provision would look like

Review regulation of recreational vehicles/ devices to ensure they do not interfere with pedestrian amenity
Now the discusion.
Footpaths for pedestrians - the case to retain dedicated walking space
The issue:
Current New Zealand law does not permit cycling on footpaths or berms, unless delivering newspapers or mail. Mobility devices and wheeled-recreational devices (defined here) and pedestrians are required to use footpaths at all times, where practicable. The rules on footpath use by pedestrians, riders of mobility devices and wheeled-recreational devices are also set out in th the Land Transport (Road User) Rule 2004.
The current law is being challenged on two fronts: 
The Make it Okay campaign is advocating for children under 14 years old, and any accompanying adult, to be permitted to ride full-size cycles on the footpath due to concerns for their safety. 
New Zealand Post wants to user Paxter vehicles on footpaths and will need exemptions from Road Controlling Authorities (Local Authorities or NZTA). These vehicles are capable of reaching a speed of 45km/h.
Living Streets Aotearoa believes use of the footpath by cyclists and more powered vehicles would have adverse impacts on pedestrians, particularly the elderly and vision impaired. 
On this page we present the limited research on this issue from a pedestrian perspective. In the second section the focus is on the related issue of pedestrian/cyclist conflict on shared paths.
This material is provided to inform debate on this issse. 
Footpath use - pedestrian perspective
Viewpoints
Victoria Walks. Footpaths are for feet. Position statement.
 
Boulter, R. (2016). Footpath biking: should it be allowed? Roundabout: Magazine of the IPENZ Transportation Group, Issue 148: 16.
See also Roger Boulter's website 1 December for more
 
Research
NZTA report published 20 Feb 2017  Footpath Cycling Rule Options Research
Chong, S., Poulos, R., Olivier, J. Watson, W.L., & Grzebieta, R. (2010).
Relative injury severity among vulnerable non-motorised road users: Comparative analysis of injury arising from bicycle–motor vehicle and bicycle–pedestrian collisions. Accident Analysis & Prevention, 42(1): 290-296. doi: 10.1016/j.aap.2009.08.006
From the abstract: "The significant burden of injury arising from collisions of cyclists and MVs needs to be addressed. However in the absence of appropriate controls, increasing the opportunity for conflict between cyclists and pedestrians (through an increase in shared spaces for these users) may shift the burden of injury from cyclists to pedestrians, in particular, older pedestrians."
Grzebieta, R., McIntosh, A.M., & Chong, S. (2011).
Pedestrian-cyclist collisions: Issues and risk. Paper presented at the Australasian College of Road Safety Conference, 'A safer system: making it happen', Melbourne, 1-2 September 2011.

De Rome, L., Boufous, S,, Georgeson, T., Senserrick, T.,Richardson, D., & Ivers, R. (2014).
Bicycle crashes in different riding environments in the Australian Capital Territory. Traffic Injury Prevention. 15(1): 81-88. doi: 10.1080/15389588.2013.781591
From the abstract: Conclusions: Fewer cyclists were injured in on-road cycle lanes than in other cycling environments, and a high proportion of injuries were incurred on shared paths. This study highlights an urgent need to determine appropriate criteria and management strategies for paths classified as suitable for shared or segregated usage.
 
Kiyota, M., Vandebona, U., Katafuchi, N., & Inoue, S. (2000).
Bicycle and pedestrian traffic conflicts on shared pavements. 
Introduction: "An opportunity to study shared usage street space became available with a revision of traffic regulations in 1978 that allowed the introduction of shared usage of footpaths among cyclists and pedestrians (Oka 1981). The amended regulation allowed Japanese planners and traffic authorities to operate without physical segregation of cyclists and pedestrians. This is a significant aid to authorities that had to deal with a large number of narrow streets where there was no scope for segregation. This paper is an attempt to look at shared operations from user point of view and focuses on aspects of safety perceptions. In particular, the paper investigates danger perception triggers with the aid of field observations to provide a better understanding about factors that threaten the sense of safety of pedestrians."
Vandebona, U., & Kiyota, M.(2001).
Safety perception issues related to pedestrians and cyclists. Transport Engineering in Australia, Vol. 7, No. 1/2: 27-34.
Online at: :
Litman, T., & Blair, R. (2010).
Managing personal mobility devices (PMDs) on non-motorized facilities. Victoria Transport Policy Institute.
 
Tucker, P., Milczarski, W., & Maisel, R. (2014).
Pedestrian injuries due to collisions with bicycles in New York and California. Journal of Safety Research. 51: 7-13. doi: 10.1016/j.jsr.2014.07.003
"Although the rate of injuries to pedestrians from collisions with cyclists has been decreasing, improvements to the cycling infrastructure will need to continue. Bike lanes, particularly protected bike lanes, have been shown to be an effective way of reducing cycling–pedestrian accidents. The results of the current study are consistent with this research. Educational campaigns aimed at cyclists that emphasize the safety of all road users – including pedestrians – will also need to continue to assure that this downward trend in the number of accidents is not reversed."
Focus on needs of older pedestrians
Bernhoft I, Carstensen G. (2008).
Preferences and behaviour of pedestrians and cyclists by age and gender. Transportation Research Part F, 11: 83-95.
doi: 10.1016/j.trf.2007.08.004
Tournie, I., Dommes, A., & Cavallo, V. (2016).
Review of safety and mobility issues among older pedestrians. Accident Analysis & Prevention. 91; 24-35.
doi: 10.1016/j.aap.2016.02.031
Wennburg H, Ståhl A, Hydén C. (2009).
Older pedestrians' perceptions of the outdoor environment in a year-round perspective. European Journal of Ageing, 6(4):277-90
WHO. (2007).
Global age-friendly cities: A guide. Geneva, Switzerland: World Health Organization.
Online at: http://www.who.int/ageing/publications/Global_age_friendly_cities_Guide_English.pdf
What older pedestrians need, p.18
Cycling perspective
Shared paths
Cycling Action Network. (2008). Cyclists on footpaths. First draft.
Online at: https://can.org.nz/canpolicy/cyclists-on-footpaths (Retrieved 18 June 2016).
"Cycling on footpaths should be legal for riders younger than 12 years and their accompanying guardians."
A Canadian perspective
"I believe that in many situations it is best to accept the diversity of modes and focus instead on managing behaviors to minimizing conflicts by setting maximum speed limits and identifying exactly who yields when facility users interact. For example, there are circumstances in which I believe cyclists should be allowed to ride on sidewalks and walking paths (e.g., slow riding cyclists on an uncrowded facilities, who are willing to yield to other users, particularly if parallel roadways are unsuited to that type of cyclists). In some cases it is best to limit a particular group, such as limiting when and where cyclists and skateboards may use a particular path.
 See my article, "Managing Diverse Modes and Activities on Non-motorized Facilities: Guidance for Practitioners," ITE Journal, Vol. 76, No. 6 (www.ite.org), June 2006, pp. 20-27; at www.vtpi.org/man_nmt_fac.pdf."
Todd Litman, personal communication by email, 30 May 2016.
Cycling research: sidewalks. https://can.org.nz/system/files/Research-0201-Sidewalks.pdf
Bromell, RJ (2016) Children on Bicycles – How Safe Are They? Report to Child Injury Prevention Foundation. New Zealand research
Findings from this are found in Wayne Newman's issues paper for RCA forum (unpublished).
Focus on the abilities and competencies of children 8-12 years old.
Cripton PA; Shen H; Brubacher JR; Chipman M; Friedman SM; Harris MA; Winters M; Reynolds CC; Cusimano MD; Babul S; Teschke K. (2015).
Severity of urban cycling injuries and the relationship with personal, trip, route and crash characteristics: analyses using four severity metrics. BMJ Open. 5(1):e006654, 2015.
doi: 10.1136/bmjopen-2014-006654
Conclusions: In two of Canada's largest cities, about one-third of the bicycle crashes were collisions with motor vehicles and the resulting injuries were more severe than in other crash circumstances, underscoring the importance of separating cyclists from motor vehicle traffic. Our results also suggest that bicycling injury severity and injury risk would be reduced on facilities that minimise slopes, have lower vehicle speeds, and that are designed for bicycling rather than shared with pedestrians.
Haworth, N., Schramm, A. & Debnath, A.K. (2014).
An observational study of conflicts between cyclists and pedestrians in the city centre. Journal of the Australasian College of Road Safety, 25(4): 31-40.
Online at: http://eprints.qut.edu.au/79101/1/JACRS_bike_obs_paper.pdf
Conclusion: "In conclusion, the current study has demonstrated a large increase in cyclists in the centre of Brisbane, more than 20% of whom are riding on the footpath. While riding on the footpath increases the odds of a pedestrian-cyclist conflict, it remains low and factors associated with the danger from motor vehicles contribute to these odds. This suggests that the footpath is playing an important role as bicycle infrastructure in the centre of the city where motor vehicle density is high. Yet the current research and the published literature demonstrate challenges associated with male, risk-taking and young riders interacting with (especially) older pedestrians. Safer infrastructure and lower speed limits have an important role in encouraging cyclists to ride on the road and thus minimise risks and inconvenience to pedestrians and cyclists."
Haworth, N.L. & Schramm, A.J. (2011)
Adults cycling on the footpath : what do the data show? In Australasian Road Safety Research, Policing and Education Conference, 6-9 November 2011, Perth Convention and Exhibition Centre, Perth, WA.
Online at: http://eprints.qut.edu.au/49906/5/49906.pdf
Haworth, N., & Schramm, A. (2014).
What happens when cyclists and walkers share the space? Presented at Walk21, Sydney, 21-23 October, 2014.
Online at: http://www.walk21sydney.net/assets/Uploads/presentations/walk21sydney2014/Wednesday%2022nd%20October%202014/3.%20Concurrent%20sessions/Walking%20and%20Cycling%20Friends%20or%20Foes%20AM/CP1_1100%20Narelle%20Haworth.pdf
Haworth, N. (2015).
Off-road cycling infrastructure. In J. Bonham & M. Johnson. Cycling futures (pp.283-302). University of Adelaide Press.
Online at: http://www.oapen.org/download?type=document&docid=586710#page=304
Koorey, G. (2005).
The "On-again/Off-again" Debate about Cycle Facilities. Paper presented at 5th NZ Cycling Conference.
Online at: https://www.researchgate.net/profile/Glen_Koorey/publication/228370445_The_on-againoff-again_debate_about_cycle_facilities/links/553107660cf2f2a588abb3c2.pdf
Useful data:
'A recent Cycling Advocates' Network members' survey (CAN 2003) found similarly mixed sentiments when this topic was raised; for example:
• With regards to cycling on footpaths, 39% of respondents supported the status quo whereby it is only allowed on signed shared paths, 32% wanted it allowed for children (and possibly their guardians), and 29% wanted it allowed for all." p.3).
Mobility devices

Jancey, J., Cooper, L., Howatab, P., Meuleners, L., Sleet, D., & Baldwin, G. (2013).
Pedestrian and Motorized Mobility Scooter Safety of Older People. Traffic Injury Prevention, 14(6): 647-653. Doi: 10.1080/15389588.2012.749465
Miller, S;   Molino, JA;   Kennedy, JF;   Emo, AK;   Do, AH. (2008)
Segway rider behavior: speed and clearance distance in passing sidewalk objects. Transportation Research Record, NO: 2073: 125-32,
Behaviour change / enforcement
Okinaka, T. and Shimazaki, T. (2011),
The effects of prompting and reinforcement on safe behaviour of bicycle and motorcycle riders. Journal of Applied Behavior Analysis, 44: 671–674.
doi: 10.1901/jaba.2011.44-671
Abstract: A reversal design was used to evaluate the effects of vocal and written prompts as well as reinforcement on safe behavior (dismounting and walking bicycles or motorcycles on a sidewalk) on a university campus. Results indicated that an intervention that consisted of vocal and written prompts and reinforcement delivered by security guards was effective at increasing safe behavior exhibited by bicycle and motorcycle riders. No differences were observed between vehicle type or gender with regard to engagement in safe behavior.
This highlights that sustained efforts are needed to enforce rules even on a campus.
Hatfield J, Prabhakharan P. (2013).
An investigation of behaviour and attitudes relevant to the user safety of pedestrian/cyclist shared paths. In: 2013 Australasian College of Road Safety Conference, Adelaide, 2013.
NSW Roads and Traffic Authority. Study of bicyclist and pedestrian safety on shared paths. Surry Hills: Taverner Research, 2009.
Fishman, E. (2010).
Conflict minimisation between pedestrians and cyclists on shared paths  
Australian Institute of Traffic Planning and Management (AITPM) National Conference, 2010, Brisbane, Queensland 
Ker, I., Huband, A. (2006).
Getting in the way of (each other's) progress: managing pedestrian-cyclist conflict on paths. ARRB Conference, 22nd, 2006, Canberra, ACT, Australia 
 
Hummer, JE; Rouphail, NM; Toole, JL; Patten, RS;   Schneider, RJ;   Green, JS;   Hughes, RG;   Fain, SJ. (2007).
Evaluation of safety, design, and operation of shared-use paths: final report 
 
Speed reduction benefits
Finally there is evidence that slower speeds streets, particularly in residential areas and town centres would benefit all road users, making it safer for cyclists to use the road, and more pleasant for pedestrians on footpaths adn safer when they need to cross.
Where the rubber meets the road: Reducing the impact of motor vehicle crashes on health and well-being in BC. 2016
http://www2.gov.bc.ca/assets/gov/health/about-bc-s-health-care-system/office-of-the-provincial-health-officer/reports-publications/annual-reports/reducing-motor-vehicle-crashes-bc.pdf
http://www.monash.edu/__data/assets/pdf_file/0007/216736/muarc276.pdf
Monash 2008
Speed limits: A review of evidence. RAC Foundation, 2012.
http://www.racfoundation.org/assets/rac_foundation/content/downloadables/speed_limits-box_bayliss-aug2012.pdf
Unsafe at many speeds
https://www.propublica.org/article/unsafe-at-many-speeds