Walking routes are very different to driving routes and many pedestrian walkways are missing from standard streets maps.  Our walking maps show all the routes and highlight pedestrian short-cuts and other features that support and encourage walking. These can be customised to focus on a particular area, building or campus and can also highlight recommended routes or points of interest.
Click here to see the Hamilton Walking Maps
Click here to see the North Shore Walking Maps booklets
Click here to see Wellington walking maps and ideas including the Newtown and Berhampore Walking map and Victoria University walking map  Also the Walking Wahine walk on Suffrage Day 2018
Click here to see the Auckland Waitamata Walking maps
Click here to see the Auckland Transport walking maps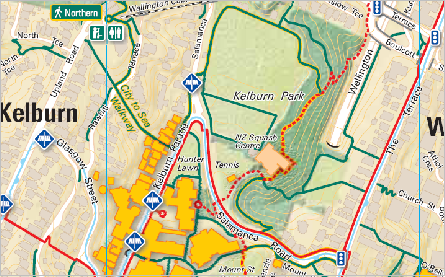 These maps can be done in our standard format (see inset) or can be custom designed.
(NB: The green routes are pedestrian only, the red and red dotted lines show recommended and more challenging routes).
Lunchtime and weekend walks maps
Our lunchtime walks pocket maps, show great places to walk and interesting routes to encourage workers to explore the city and get some fresh air.  We ensure that walks are kept to under an hour so that they can be walked in a lunchbreak and choose routes that explore interesting heritage features or green spaces.  For these maps, local people usually compile and test the routes. They can be customized to cover a town or areas of a city, or focus on a particular building or workplace, (such as the council offices).  These can also be adapted to show family walking routes or longer weekend walks.
Walking Map Toolbox
This toolbox for producing walking maps was developed by Living Streets Aotearoa in collaboration with the Health Sponsorship Council and Educating New Zealand.  The pilot map was the Newtown and Berhampore Walking map (see below).  Contact us if you would like to discuss how you can develop your own community map.
Find out more about Living Streets services